Current Members
Prof. Magnus BRUZE

Chairman

Department of Occupational and Environmental Dermatology
Skane University Hospital Malmo
S-20502 MALMÖ, Sweden
Tel.:+46 40 331760
Fax: +46 40 336213
Email: magnus.bruze@med.lu.se
Prof. Iris ALE, M.D.
Department of Dermatology
University Hospital, Arazati 1194
11300 MONTEVIDEO, Uruguay
Tel.: + 598 2 4872571
Fax: + 598 2 6873282
Email: irisale@gmail.com"
Prof. Klaus Ejner ANDERSEN
Department of Dermatology
Odense University Hospital
Sdr.Boulevard 29
DK-5000 Odense C, Denmark
Tel (cell).:+45 403 70230
Fax: +45 661 23819
E-mail: keandersen@health.sdu.dk
Prof. Thomas L.DIEPGEN
University Heidelberg
Department of Social Medicine
Occupational and Environmental Dermatology
Thibautstrasse, 3
D – 69115 HEIDELBERG, Germany
Tel.: +49 6221 568751
Mobile: +49 172 6007987
Fax: +49 6221 565019
Email: thomas.diepgen@med.uni-heidelberg.de"
Prof.Dr. Peter U.ELSNER
Department of Dermatology and Allergy
Fredrich-Schiller University Jena
Erfurter Strasse, 35
D - 07740 JENA, Germany
Tel.: + 49 3641 937 350
Fax: + 49 3641 937 418
Email: elsner@derma.uni-jena.de
Prof. Jun Young Lee
Department of Dermatology
Seoul ST Mary's Hospital
The Catholic University of Korea
222, Banpodearo
Seocho-gu
SEOUL 137-701, Korea
Tel.: +822 2258 6222
Mobile: + 82 10 5222 0571
Fax: +822 594 3255
E-mail: jylee@catholic.ac.kr
Prof.Chee Leok GOH, M.R.C.P
National Skin Centre
1 Mandalay Road
1130 SINGAPORE
Tel.: +65 6350 8553
Fax: +65 6253 3225
E-mail: drgohcl@qmail.com


Prof. An GOOSSENS
Department of Dermatology
Contact Allergy Unit
University Hospitals Leuven
Kapucijnenvoer, 33
B-3000 LEUVEN, Belgium
Tel.: + 32 16 337860
Fax: + 32 16 337012
E-mail: An.Goossens@uz.kuleuven.ac.be
Prof. Hemangi JERAJANI

Department of Dermatology
LTM Medical College & LTM General Hospital
Sion, Mumbai-400 022
India
Cell: 09820031483
Fax: + 91 22 24044774
E-mail: jerajani@rediffmail.com
www.codfi.org
Prof.Jean-Marie LACHAPELLE
26, Avenue de Vincennes
B-6110 MONTIGNY-LE-TILLEUL
Belgium
Tel.: + 32 71 519996
Fax: + 32 71 519114
E-mail: Jean-marie.Lachapelle@uclouvain.be
Dr. John Mc FADDEN
Cutaneous Allergy Clinic
St John's Institute Dermatology
St Thomas' Hospital
LONDON SE1 7EH
Home: 610 East, Forum Magnum Square
Tel.: + 44 7881 658153
E-mail: john.mcfadden@kcl.ac.uk
Prof. Howard I. MAIBACH
Department of Dermatology UCSF
School of Medicine
Box 0989, Surge 110
SAN FRANCISCO, CA 94143-0989, USA
Tel.: + 1 415 476 2468
Fax: + 1 415 753 5304
E-mail: maibachh@derm.ucsf.edu
www.dermatology.ucsf.edu
Prof. Kayoko MATSUNAGA
Professor and Chair
Department of Integrative Medical Science
for Allergic Disease
Fujita Health University School of Medicine
1-98, Dengakugakubo, Kutsukake-cho
Toyoake, Aichi 470-1192
Japan
TEL +81 562 93 9441
FAX +81 562 95 2915 2915
E-mail: kamatsu@fujita-hu.ac.jp
Prof. Rosemary NIXON
Occupational Dermatology Research and Educational Centre
Skin and Cancer Foundation Victoria
1/80 Drummond St, Carlton South,
Victoria 3053, Australia
Tel.: 61 396 23 9400
Fax: 61 396 39 3575
E-mail: rnixon@occderm.asn.au
www.occderm.asn.au
Prof. Denis SASSEVILLE
Montreal General Hospital
Room L8.210
1650 Cedar Avenue
MONTREAL, QC H3G 1A4, Canada
Tel.: + 514 934 1934 (ext) 34999
Fax: + 514 843 1570
E-mail: denis.sasseville@mcgill.ca


Dr. Alicia Cannavo
Argentine Society of Dermatology
Av. Maipu 1595 PB "D". (1638) Vicente Lopez. Buenos Aires. Argentina
Tel: +54 11 47 97 01 36
acannavo4@gmail.com


Prof. Margarida Goncalo
Clinic of Dermatology, University Hospital
and Faculty of Medicine, Praceta
Mota Pinto, P-3000-075
Coimbra, Portugal
Tel: +351 239 400 420
Fax: +351 239 400 490
mmgoncalo@gmail.com


Assoc. Prof. Suzana Ljubojevic Hadzavdic
Department of Dermatology
and Venereology,
University Hospital
Center Zagreb, University of Zagreb School
of Medicine, Salata 4, 10000 Zagreb, Croatia
Tel: +385 1 2368 930
Fax: +385 1 2379 911
suzana.ljubojevic@gmail.com



Prof. Melanie Pratt
University of Ottawa,
737 Parkdale Room 464 and 461, K1Y1J8, Ottawa, Ontario, Canada
Tel: +613 7985555 (office)
Fax: +613 7614692
prattderm@gmail.com
Prof. Kaushal Verma
Dep. of Dermatology
and Venereology, All India Institute
of Medical Sciences,
New Delhi-110 029, India
Tel: +91-11-26593454
Fax: +91 -11-26194119
prokvermaderm@gmail.com

Prof. Pailin Puangpet
Institute of Dermatology,
420/7 Rajvithi Rd, Rajthevee,
Bangkok
10400, Thailand
Tel: +66 2354 5222
Fax: +66 2354 8042
pailin.samutrapong@gmail.com

Past Members
First Eleven Members
Members
City, Country
Hans-Jürgen Bandmann
Munich, Germany
Charles D Calnan
London, United Kingdom
Etain Cronin
London, United Kingdom
Sigfrid Fregert*
Lund, Sweden
Niels Hjorth*
Copenhagen, Denmark
Bertil Magnusson*
Malmö, Sweden
Howard I Maibach
San Francisco, USA
Klaus Malten
Nijmegen, the Netherlands
Carlo Meneghini
Bari, Italy
Veikko Pirilä*
Helsinki, Finland
Darrell Wilkinson
High Wycombe, United Kingdom
*Previous member of the Scandinavian Commitee for Standardization of routine Patch Testing established in 1962.
Photo of members in 1967.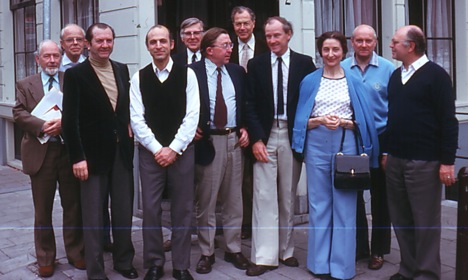 Picture of the first 11 members. From left: Darrell Wilkinson, Veikko Pirilä, Carlo Meneghini, Howard Maibach, Klaus Malten, Niels Hjorth, Bertil Magnusson, Sigrid Fregert, Etain Cronin, Charles Calnan, Hans-Jurgen Bandmann.
Current Members
Prof.Jean-Marie LACHAPELLE
26, Avenue de Vincennes
B-6110 MONTIGNY-LE-TILLEUL
Belgium
Tel.: + 32 71 519996
Fax: + 32 71 519114
E-mail: Jean-marie.Lachapelle@uclouvain.be
Prof. Iris ALE, M.D.
Department of Dermatology
University Hospital, Arazati 1194
11300 MONTEVIDEO, Uruguay
Tel.: + 598 2 4872571
Fax: + 598 2 6873282
E-mail: irisale@gmail.com
Prof. Magnus BRUZE
Chairman
Department of Occupational and Environmental Dermatology
Skane University Hospital Malmo
S-20502 MALMÖ, Sweden
Tel.:+46 40 331760
Fax: +46 40 336213
E-mail: magnus.bruze@med.lu.se

Prof. Thomas L.DIEPGEN
University Heidelberg
Department of Social Medicine
Occupational and Environmental Dermatology
Thibautstrasse, 3
D – 69115 HEIDELBERG, Germany
Tel.: +49 6221 568751
Mobile: +49 172 6007987
Fax: +49 6221 565019
E-mail: thomas.diepgen@med.uni-heidelberg.de
Prof.Dr. Peter U.ELSNER
Department of Dermatology and Allergy
Fredrich-Schiller University Jena
Erfurter Strasse, 35
D - 07740 JENA, Germany
Tel.: + 49 3641 937 350
Fax: + 49 3641 937 418
E-mail: elsner@derma.uni-jena.de
Prof. Jun Young Lee
Department of Dermatology
Seoul ST Mary's Hospital
The Catholic University of Korea
222, Banpodearo
Seocho-gu
SEOUL 137-701, Korea
Tel.: +822 2258 6222
Mobile: + 82 10 5222 0571
Fax: +822 594 3255
E-mail: jylee@catholic.ac.kr
Prof.Chee Leok GOH, M.R.C.P
National Skin Centre
1 Mandalay Road
1130 SINGAPORE
Tel.: +65 6350 8553
Fax: +65 6253 3225
E-mail: drgohcl@qmail.com
Prof. An GOOSSENS
Department of Dermatology
Contact Allergy Unit
University Hospitals Leuven
Kapucijnenvoer, 33
B-3000 LEUVEN, Belgium
Tel.: + 32 16 337860
Fax: + 32 16 337012
E-mail: An.Goossens@uz.kuleuven.ac.be


Prof. Hemangi JERAJANI
Department of Dermatology
LTM Medical College & LTM General Hospital
Sion, Mumbai-400 022
India
Cell: 09820031483
Fax: + 91 22 24044774
E-mail: jerajani@rediffmail.com
www.codfi.org
Dr. John Mc FADDEN
Cutaneous Allergy Clinic
St John's Institute Dermatology
St Thomas' Hospital
LONDON SE1 7EH
Home: 610 East, Forum Magnum Square
LONDON SE1 7EH
Tel.: + 44 7881 658153
E-mail: john.mcfadden@kcl.ac.uk
Prof. Howard I. MAIBACH
Department of Dermatology UCSF
School of Medicine
Box 0989, Surge 110
SAN FRANCISCO, CA 94143-0989, USA
Tel.: + 1 415 476 2468
Fax: + 1 415 753 5304
E-mail: maibachh@derm.ucsf.edu
www.dermatology.ucsf.edu
Prof. Kayoko MATSUNAGA
Department of Dermatology
Fujita Health University School of Medicine
Toyoake
AICHI 470-1192, Japan
Tel.: + 81 562 93 2339
Fax: + 81 562 95 2915
E-mail: kamatsu@fujita-hu.ac.jp
Prof. Denis SASSEVILLE
Montreal General Hospital
Room L8.210
1650 Cedar Avenue
MONTREAL, QC H3G 1A4, Canada
Tel.: + 514 934 1934 (ext) 34999
Fax: + 514 843 1570
E-mail: denis.sasseville@mcgill.ca
Past Members
First Eleven Members
Members
City, Country
Hans-Jürgen Bandmann

Munich, Germany
Charles D Calnan
London, United Kingdom
Etain Cronin
London, United Kingdom
Sigfrid Fregert*
Lund, Sweden
Niels Hjorth*
Copenhagen, Denmark
Bertil Magnusson*
Malmö, Sweden
Howard I Maibach
San Francisco, USA
Klaus Malten
Nijmegen, the Netherlands
Carlo Meneghini
Bari, Italy
Veikko Pirilä*
Helsinki, Finland
Darrell Wilkinson
High Wycombe, United Kingdom
Darrell Wilkinson
High Wycombe, United Kingdom
Past Members
Members
City, Country
Claude Benezra
Strasbourg, France
Susi Freeman
Sydney, Australia
Peter Frosch
Dortmund, Germany
Matti Hannuksela
Oulu, Finland
Ritsuko Hayakawa
Nagoya, Japan
Lasse Kanerva
Helsinki, Finland
Jan Wahlberg
Stockholm, Sweden
Leon Wall
Perth, Australia
Hee Chul Eun
Seoul, Korea
Past Members
| | |
| --- | --- |
| Members | City, Country |
| Claude Benezra | Strasbourg, France |
| Susi Freeman | Sydney, Australia |
| Peter Frosch | Dortmund, Germany |
| Matti Hannuksela | Oulu, Finland |
| Ritsuko Hayakawa | Nagoya, Japan |
| Lasse Kanerva | Helsinki, Finland |
| Jan Wahlberg | Stockholm, Sweden |
| Leon Wall | Perth, Australia |
| Hee Chul Eun | Seoul, Korea |