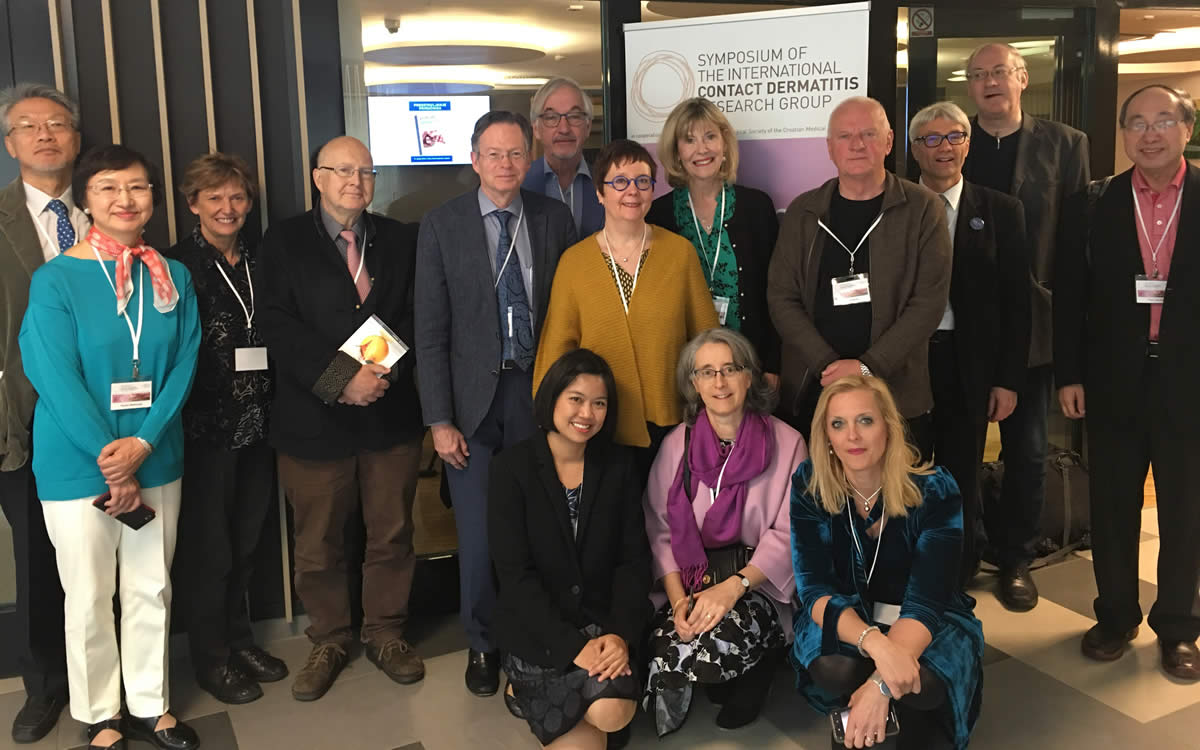 ICDRG, Zagreb, March 2019
From left: Lee Jun Young, Kayoko Matsunaga, Rosemary Nixon, Thomas Diepgen, Denis Sasseville, Klaus Andersen, An Goossens, Melanie Pratt, Magnus Bruze (Swen Malte John), John McFadden, Goh Chee Leok
Front row: Pailin Puanget, Margarida Goncalo, Suzana Ljubojevic Hadzavdic
About us
The International Contact Dermatitis Research Group was formed in 1966 to promote the understanding of contact dermatitis. It has had major roles in the standardisation of patch testing and the facilitation of regular scientific meetings, for over forty years and thirty five years respectively. It has also been involved in the authorship of a number of publications on contact dermatitis.
The ICDRG arose from the Scandinavian Committee for Standardization of Routine Patch Testing which was established in 1962 by Professor Bertil Magnusson. It was enlarged to eleven members in 1970.
Amazingly, these eleven members, met regularly for over 20 years and did much to promote contact dermatitis and patch testing, including being involved in numerous joint studies and publications. They initiated the formation of the journal, Contact Dermatitis in 1975 and all became members of the initial Editorial Advisory Board.
The ICDRG is now comprised of representatives from all over the world, and currently includes members from Belgium, Sweden, Denmark, the United Kingdom, Germany, the Netherlands, Portugal, Croatia, Singapore, Korea, India, Japan, Thailand, USA, Canada, Argentina, Uruguay, and Australia.

Announcements
See the Meetings section for information regarding upcoming scientific meetings.
The ICDRG is pleased to announce the publication in 2014, Patch Testing Tips. The comments are from the ICDRG, edited by Jean-Marie Lachapelle, Magnus Bruze and Peter Elsner. The soft cover book presents helpful information about patch testing.
In addition, Patch Testing and Prick Testing (Lachapelle and Maibach) is now in its third edition.