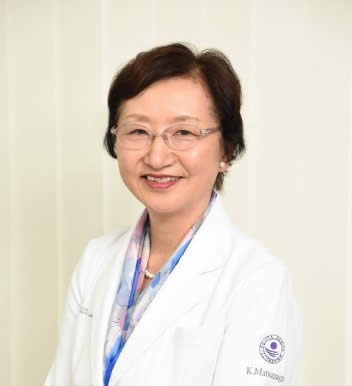 Professor Kayoko Matsunaga
ICDRG 2006-ongoing
Dr. Kayoko Matsunaga is the Professor and Chair of the Department of Integrative Medical Science for Allergic Disease, Fujita Health University School of Medicine, in Nagoya, Japan. She is a Japanese Dermatological Association-certified doctor and a medical advisor, and also a Japanese Society of Allergology-certified doctor and medical advisor. She is also the Representative of the Association of Skin Safety Case Information network (SSCI-Net).
Graduated from the Medical School of Nagoya University in 1976, she was trained at the Department of Dermatology, Nagoya University Branch Hospital Nagoya by Professor Ritsuko Hayakawa. She became Assistant Professor in 1991 and the Professor and Chair in 2000 of the Department of Dermatology Fujita Health University School of Medicine. She served as a vice-president of Fujita Health University for two years from 2014 to 2016. After retiring from that position, she started her present position in April 2016.
She became a member of the ICDRG in 2006, after the unfortunate and untimely passing of Professor Ritsuko Hayakawa.
She has been an invited speaker at many ICDRG symposia and other meetings. She hosted the
17th ICDRG International Symposium together with the 10th APEODS in Kyoto, 2009.
She was President of the Japanese Society for Contact Dermatitis (2004-2007) and President of the Japanese Society for Dermatoallergology and Contact Dermatitis (2007-2011), which is now the Japanese Society for Cutaneous Immunology and Allergy. She was the Chairperson of the Special Committee for the Safety of Protein Hydrolysates in Cosmetics, the Japanese Society of Allergology.
Her areas of research include contact dermatitis, skin safety research, food allergy, latex allergy, skin care, and occupational dermatology. Now her mission is education and research in integrative medical science, especially contact dermatitis and food allergy.