Professor Hee Chul Eun
ICDRG until 2013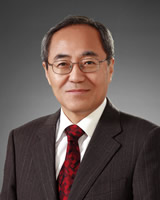 The late nineteen seventies when Dr Eun was trained as a dermatologist was a dynamic period in the Republic of Korea (South Korea), which was rapidly being industrialized from a traditional agricultural society. Many skin diseases related to environmental problems were newly observed by dermatologists in this country and naturally this led to his interest to contact dermatitis. Shortly after he became a faculty member in 1979, he went to England and was trained in Darrel Wilkinson's department as a British Council scholar. Dr Wilkinson, one of the founding members of the ICDRG and a board member of the International Leagues of Dermatological Societies (ILDS), not only inspired him with interest in contact dermatitis but also his will for one day organizing the World Congress of Dermatology in the Republic of Korea.
As soon as he came back from England, he organized the Korean Contact Dermatitis Research Group and this group played a key role in encouraging the Korean Dermatological Association to establish different dermatology subspecialties including the Korean Contact Dermatitis and Skin Allergy Society (former name, Korean Contact Dermatitis Society). The society has been organizing annual symposia, and the 34th Annual symposium of the Korean Contact Dermatitis and Skin Allergy Society was held this year.
Between 1986 and 1988, he trained in Professor Ronald Marks' department in Cardiff and Professor Howard Maibach's department in San Francisco. In addition to studying contact dermatitis, various experiences related to basic science during this training period helped him to establish the Institute of Dermatology Science in the Seoul National University College of Medicine while he served as an active professor and chairman of the Dermatology Department.
In 2003, as the president, Professor Eun organized the 14th International Symposium on Contact Dermatitis and the 7th Asia-Pacific Environmental and Occupational Dermatology Symposium conjointly in Seoul. Since the meeting he was a member of the ICDRG until 2013 and also served as secretary general of the ICDRG between 2003 and 2008.
For a long time he has contributed much to the Korean Dermatological Association and the Korean Society for Investigative Dermatology as a key member and president. Especially, all the Korean dermatologists appreciate his dedication as president to the successful 22nd World Congress of Dermatology, which was held in 2011 in Seoul.
He retired from the University in 2014 and also completed his role as an ILDS board member in 2015 after serving 9 years. Since retirement, he still takes care of patients as a part time dermatology consultant in the National Cancer Centre in Korea and on the weekend he is usually spending time in gardening and essay writing.
Professor Jun Young Lee