Professor An Goossens
ICDRG ongoing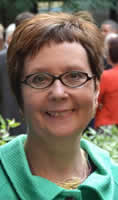 Professor An Goossens graduated in Pharmacy from the "Katholieke Universiteit Leuven", Belgium, and obtained the Certificate of Advanced Studies in Cosmetology from the University of Nantes, France. She performed clinical research for a year with the renowned Dr Alexander A Fisher, Clinical Professor at the New York University, New York, USA. She became Doctor in Medical Sciences at Leuven University, where she was permanently appointed to the staff of the Department of Dermatology and was appointed Professor in 1990. She became Emeritus Professor in 2016 and remains active academically and as an expert for the Institute of Occupational diseases (FEDRIS).
She is a member of the Belgian Environmental Contact Dermatitis Group, the "Groupe d'Etudes et de Recherche en Dermato-Allergologie de Contact" (GERDA), the European Environmental Contact Dermatitis Research Group (EECDRG) (Secretary from 1993 to 1999, President from 1999 to 2002), the European Society of Contact Dermatitis (ESCD) (President from 2010 to 2012), and the ICDRG (International Contact Dermatitis Research Group). She is an honorary member of the Mexican Academy of Dermatology, and corresponding member of the Belgian, Swedish, Portuguese, and Argentinian Dermatological Societies.
She is also a Member of the Superior Health Council, Belgium.
She is member of the editorial board of Contact Dermatitis, the Annali Italiani di Dermatologia, "Allergologia and Immunopathologia", "International Journal of Dermatology and Clinical Research", and "Cosmetics".
She has received a number of awards: ROC-price in 1980, "A.A. Fisher Lecturer award" in 1990, "Prix Jean Darier" in 2006, Excellence award for work on contact dermatitis 2013 (Mahatmi Ghandi and SMS Medical College, Jaipur India), and the International League of Dermatologic Societies (ILDS) Certificate of Appreciation in 2016.
She is the author of numerous articles in the field of contact dermatitis